The Squares Of Philadelphia
Originally planned by William Penn when he laid out the city of Philadelphia, Pennsylvania in 1682, the Squares of Philadelphia are five open-space public parks.
Rittenhouse Square in Center City Philadelphia is an example of one of the city's squares. The public park is a great place to stroll, eat lunch or listen to street performers play music. On a regular basis, the Square hosts festivals and markets.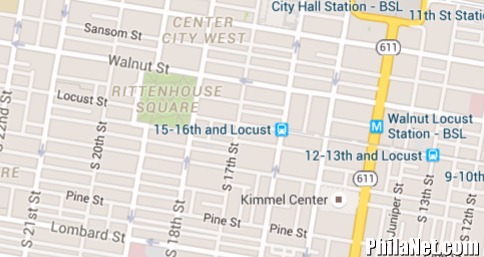 Rittenhouse Square Map of Philadelphia
Franklin Square is another of the five original squares. It is located in the Center City area, between North 6th and 7th Streets, and between Race Street and the Vine Street Expressway (I-676). Local legend maintains that Franklin Square is where Benjamin Franklin conducted his "kite and key" electricity experiment in 1752. Franklin Square offers these attractions:
* The Franklin Square Fountain was built in 1838, but fell into disrepair by the late 1970s and was turned off. It was refurbished and repaired during the park's restoration. The fence and stone work of the fountain are original.
* The Parx Liberty Carousel is located just northwest of the Fountain. Many of the carousel's animals recall Philadelphia's historical heritage.
* Philly Mini Golf, located north of the Fountain, is the only miniature golf course in Center City. The holes are based on some of the city's best-known tourist spots, such as Elfreth's Alley, the Ben Franklin Bridge, and the Liberty Bell.
* In 1976, the city dedicated the Living Flame Memorial, which honors the city's fallen police officers and firefighters. It centers on a sculpture by local sculptor Reginald E. Beauchamp. The memorial is unusual in being one of the few to honor the two groups together. A design competition was held in 2011 to choose a design for a replacement memorial.
* Two playgrounds, one for younger children, and the other for older ones, are located in the park's southeast quadrant.
Southwest (Rittenhouse) Square, Southeast (Washington) Square, Northwest Square (Logan Circle), Northeast (Franklin) Square and Centre Square (City Hall) all offer something free to do in Philly.
---
Back to the Greater Philadelphia Region | More Free Things to Do in Philly