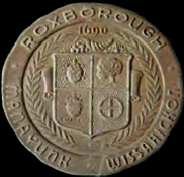 Roxborough Manayunk Wissahickon Historical Society
Roxborough Manayunk Wissahickon Historical Society
The Roxborough Manayunk Wissahickon Historical Society welcomes those interested in local history, the Roxborough Library Archives and public and monthly Society Meetings, bringing forth educators specializing in area history. For questions about history or interest in becoming a Historical Society Member, please submit the following form.

For those who wish to mail their membership information, the address is -- RMWHS, P.O. Box 34, Flourtown, PA, 19031; Attn: M. Walsh

The annual fee for membership is:
Student: $10
Single: $20
Family: $30
Corporation: $50
We would need name, address, phone (optional) and email (optional) for new members.

Get the Roxborough Historical DVD
Get the book "Roxborough"
Membership Information, Questions & Comments
---