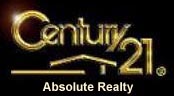 Careers in Real Estate
CENTURY 21 Absolute Realty
Serving Philadelphia, Bucks, Chester, Delaware, and Montgomery County
610-328-4300

Training and Education
The professional and personal development of every sales associate at CENTURY 21 Absolute Realty is an important priority. Through skill building, practical application and the most up to date real estate and financial information, CENTURY 21 Absolute Realty professionals can acquire the knowledge, confidence and practical experience for long term success.

A wide range of training and education programs are made available to brokers, managers and sales associates. Recognized as the finest in the industry, CENTURY 21® training works to keep you productive and give you a competitive edge. A variety of offerings cover the important basics of real estate sales - listings, referrals, quality service, financing, marketing, career management, negotiating and selling. And because the need for learning never stoops, advanced and specialty training courses, workshops, and seminars are encouraged, and frequently offered.

COMPANY PAID START UP COSTS

The CENTURY 21® organization considers recruiting and retention of quality sales associates a primary requirement of a successful real estate company. To support the needs of this business function, a number of recruiting programs and materials are made available to franchisees.

Independently owned and operated, each office offers a variety of start up packages.


CENTURY 21 Absolute Realty offers the following:

* $1,100.00 start up package (full time agent)

* Tuition Reimbursement

* Publicity to local newspapers

* Company Announcements and postage

* 16 week study program

* Name Badge



IMAGE :
No other name in real estate is as widely reconized or as widely respected and preferred as the CENTURY 21® Name. Research has proven that when people think real estate - they think of the CENTURY 21® system. Why not belong to the biggest name brand organization in the world?
---
1998 Nationwide Survey of Homeowners. This survey included 1,000 telephone interviews with a random sample of homeowners from across the USA and was conducted during February 2-11, 1998 by Wirthlin Worldwide, a leading survey research organization. The nationwide results from this survey have a 95% confidence interval of +/- 3.1%. The comparisons between CENTURY 21 and specific competitors were asked of randomly selected nationwide sub-samples of approximately 600 homeowners; the questions about the importance of specific services were asked of approximately 325 homeowners.
---
Contact Us Today about your Real Estate Career!
---

Absolute Realty
512 Baltimore Pike, Springfield, PA 19064 - 610.328.4300
742 East Chester Pike, Ridley Park, PA 19078 - 610.534.5525
1314 West Chester Pike, West Chester, Pennsylvania 19382 - 610.692.6600
CENTURY 21 Absolute Realty Career Page
CENTURY 21 Absolute Realty Delaware County
CENTURY 21 Absolute Realty Chester County