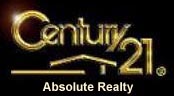 Careers in Real Estate
CENTURY 21 Absolute Realty
Serving Philadelphia, Bucks, Chester, Delaware, and Montgomery County
610-328-4300

Real Careers for Real People
What kind of people choose careers in Real Estate?
Real People. Real People like you.
Successful people who feel they could be even more successful working for themselves. ENTREPRENEURS who wanted countless possibilities in front of them... and the strength of a nationwide network and advertising program behind them. MILITARY people who seek the same high standards of conduct they knew in the Service. HOMEMAKERS who spend years making a home...and discover they have what it takes to sell one. COLLEGE GRADUATES who are eager to keep on learning...especially in a field with unlimited potential. TEACHERS who enjoy bettering children's lives while earning the paycheck they truly deserve. HOMEOWNERS who get a real estate license in order to buy or sell their own homes...and find a whole new world opens up to them.
Very Real people chose to do something extraordinary with their lives. And with the help of the CENTURY 21® SYSTEM, they succeeded. So can you.
WHEN YOU BECOME A CENTURY 21® SALES ASSOCIATE, YOU'RE ASSURED OF THREE THINGS:
TRAINING - Access to the best, most extensive training program in the real estate business.
SUPPORT - Our unparalleled national advertising programs help attract new customers, along with our unique referral network.
NAME RECOGNITION - As a CENTURY 21® sales associate, you're part of the worlds largest and most renowned real estate sales organization. So you've got the biggest name in real estate behind you. And endless opportunities in front of you.
.
Contact Us Today about your Real Estate Career!
---

Absolute Realty
512 Baltimore Pike, Springfield, PA 19064 - 610.328.4300
742 East Chester Pike, Ridley Park, PA 19078 - 610.534.5525
1314 West Chester Pike, West Chester, Pennsylvania 19382 - 610.692.6600
CENTURY 21 Absolute Realty Career Page
CENTURY 21 Absolute Realty Delaware County
CENTURY 21 Absolute Realty Chester County