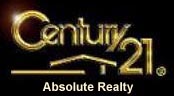 Careers in Real Estate
CENTURY 21 Absolute Realty
Serving Philadelphia, Bucks, Chester, Delaware, and Montgomery County
610-328-4300


Why Real Estate?

Consider this..........
OPPORTUNITY
Few professions offer the same opportunities as real estate sales. A career with a CENTURY 21® office, offers you a chance to realize your professional, financial and personal goals.
Flexible Hours...........

More time for family, friends, recreation and self.

Unlimited Earnings ....

The opportunity to earn as much as you want!

Equal Opportunity......

You determine your worth...Lack of education or difference in background has no effect on your worth or potential. The goals you set are your own!

Working With An Exciting Product....

The greatest financial Investment....There is always a need for real estate.

Continuing Employment..... No layoffs here!
---
What does it take?
Initiative, drive, time management, enthusiasm, and good communication skills are a few common traits. What's more important is a dissatisfaction with the status quo. The CENTURY 21® System is the world's largest, most recognized and most successful real estate organization-approximately 7,000 offices in the United States, Canada, the United Kingdom, Mexico, France, Japan, Australia, New Zealand, Papua New Guinea, Hong Kong, Carribean, South America, Central America, Greater Europe, Taiwan, Shanghai, Singapore, Benelux, Korea, Iberia and still growing.

Contact Us Today about your Real Estate Career!
---

Absolute Realty
512 Baltimore Pike, Springfield, PA 19064 - 610.328.4300
742 East Chester Pike, Ridley Park, PA 19078 - 610.534.5525
1314 West Chester Pike, West Chester, Pennsylvania 19382 - 610.692.6600
CENTURY 21 Absolute Realty Career Page
CENTURY 21 Absolute Realty Delaware County
CENTURY 21 Absolute Realty Chester County