Michael R. McCann
"The Real Estate Man"
Associate Broker, CRS, GRI
530 Walnut Street, Suite 260
Philadelphia, Pennsylvania 19106
Ph: 215-627-6005 Fax: 215-627-8106
Voice Mail: 215-440-8345
---
Welcome to Philadelphia - "The City of Neighborhoods"
Click here for Real Estate Listings in Center City, Philadelphia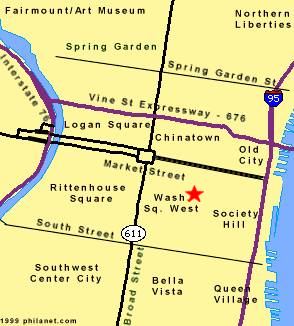 Center City Philadelphia, sprouting out from our historic City Hall, has many different and distinct neighborhoods to live in. We hope this introduction helps you find your next neighborhood in our great city, "The City of Brotherly Love".
Rittenhouse Square
The most stylish of Center City neighborhoods, with it's stately apartment buildings and gracious 19th century townhomes.
Shop Rittenhouse Row, or try The Shops at Liberty Place. Dine at internationally renowned restaurants, and then stroll to the Avenue of the Arts for an opera, play, or orchestra show.
At the heart of the neighborhood is Rittenhouse Square, the most treasured of the five city parks first designed by William Penn in 1682.
Art Museum/Fairmount
Live the sporting life in this neighborhood, with easy access to Fairmount Park, where you can enjoy jogging, biking, and skating along scenic Kelly Drive and West River Drive. Watch regattas on the Schuylkill River, or enjoy visiting beautiful Federal mansions throughout Fairmount Park.
The Philadelphia Museum of Art houses one of America's great collections of art. The grounds of the Museum also serve the neighborhood as a backyard, a meeting place, an entertainment center and a quiet spot where you can relax and enjoy views of the skyline and the river.
Spring Garden and Logan Square
Live the along the Ben Franklin Parkway. Enjoy easy access to one of the finest collections of museums and cultural institutions in the world. This neighborhood is great for kids, with easy access to the Please Touch Museum, the Franklin Institute with its planetarium and Omniverse Theater, and the dinosaur exhibits at the Academy of Natural Sciences.
Washington Square West
Live the cutting edge life of "Wash West" where you can find coffeehouses, shops, cafes, and nightspots. Live on cobblestone streets like Camac and Hutchinson or in apartments in the grand house of Portico Row on Spruce Street.
Shop on Pine Street's Antique Row or be dazzled by the choices along Jewelers' Row, the country's oldest jewelry district.
Dine at fine local restaurants, then catch a show at the Forrest Theater or the historic Walnut Street Theater. Unwind with after theater coffee and dessert and catch late night entertainment on the Avenue of the Arts.
Old City
Live the artist's life in Old City, where commercial buildings from the turn of the century have become exciting, ligh-filled loft apartments. Enjoy access to Penn's Landing and beautiful views of the Delaware River and Benjamin Franklin Bridge.
Shop at the highest concentration of galleries in the region along Second Street - remember, your spacious loft apartment will leave you lots of room for displaying your art!
Dine at some of the hottest new spots in town, enjoy some hometown brews, and catch some of the best local bands in town.
Society Hill
Live the genteel life in Society Hill, where beautifully renovated Colonial homes exist in harmony with luxury high-rise buildings. Make your address a street or cobblestone alley where Thomas Jefferson and Ben Franklin strolled.
Shop at antique stores, at specialty shops along Second Street, and at crafts fairs under the historic market shed at the old Headhouse. At night, pop over to the Ritz theaters to view the latest releases in independent and art house films.
Enjoy legendary Philadelphia seafood or Colonial fare, and invite friends who visit to stay at cozy Bed & Breakfasts in the neighborhood.
Enjoy proximity to Penn's Landing, where you can jog, ice skate or ride bikes, or attend its wonderful musical, culinary and entertainment events, including fireworks at New Year's Eve and the Fourth of July.
Queen Village and Bella Vista
Feel cozy in converted early 19th Century "trinities" or stretch out in modern townhomes. Get to know your neighbors who have lived there all their lives.
Dine and shop at the newly renovated Italian Market, where you can find fresh mozzarella, exotic spices, rare cuts of meat and - surprise - the best Vietnamese food in the region.
Shop at the funky store along South Street or catch a band and a quick bite in this longstanding, and better than ever, nightlife district.
Or shop at antique stores and second-hand stores on Sixth Street. Then peruse for curtains, upholstery and even doll house furniture along "Fabric Row" on South Fourth Street.
Chinatown
Philadelphia's Chinatown is the fourth largest in the United States. A close-knit neighborhood centered around Holy Redeemer Roman Catholic Church, Chinatown is currently expanding north of the Vine Street Expressway with a new housing development.
Shop at the dozens of gift shops and Asian markets, and enjoy access to the many events at the Pennsylvania Convention Center such as the Philadelphia Flower Show and the Auto Show.
Dine at a variety of Asian restaurants, offering Chinese, Vietnamese, Taiwanese, Burmese, or Thai cuisine. Or stroll over to the Reading Terminal Market where you can pick supplies for a picnic dinner or shop for take-home gourmet staples ranging from Amish farm produce and meats, to cilantro pesto, to kosher hors d'oeuvres and Cajun spices.
Southwest Center City
Graduate students, professors, artists and medical health professionals are making this South Philadelphia neighborhood (affectionately called "SoSo" for "South of South") an up-and-coming residential area. Residents enjoy easy access to jobs in Center City, in University City and at Graduate Hospital on South Street.
Northern Liberties
Musicians, artists and their hangers-on have been cultivating this warehouse and rowhouse district and land of former breweries into Philly's version of SoHo. Warehouse buildings lend themselves to development as great artist live/work space, music and art studios and nightclubs. The neighborhood enjoys good brews, food and jazz, as well as diner fare and clever theme evenings at local establishments.
Home · Contact Us