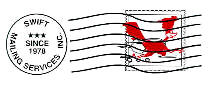 SWIFT
Mailing Services, Inc.
794 Haunted Lane, Bensalem, PA 19020 Tel: 215.638.4122, Fax: 215.638.7731
---
Swift Mailing Services, Inc. is a superior, full service lettershop and product fulfillment organization located in Bensalem, Pennsylvania.

We are your One-Stop source for Direct Mail Advertising,
Data Processing, Printing and Publishing.

We specialize in serving non-profit organizations, universities and colleges, pharmacuetical companies, printing companies, and advertising agencies.

We can save you time, money and aggravation! During the twenty-three years of our development, we have earned a consistent reputation of fast, efficient and honest service at competitive prices.
Our Services Include:
Data Processing

Ink-Jet Addressing

Handwork

Bindery and Folding
Swift Mailing Services, Inc. provides a full comprehensive analysis of your marketing program and a free quote.
Our management boasts over 40 years of experience with the U.S. Postal Service, which is invaluable in this business. We stay informed about the latest mailing technologies and postal rates, regulations and available discounts. Swift Mailing Services, Inc. has an on-site postal facility which can process drop shipments of standard class mail to BMC's which reduces your postage costs and speeds delivery.
Have Questions or Need Info About Our Products and Services?
Click HERE!

email sales@swiftmailing.com