This page is archived as of 8-18-06. It is no longer updated
GLEN CENTER GIFTS
Serving the Wissahickon Valley for over 25 years.
We deliver locally · We ship globally
---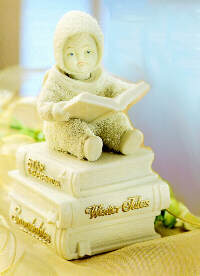 SNOWBABIES
These absolutely beautiful figurines by Department 56 are cute and affordable. They are one of the "hottest" collectibles selling at this time. The cutest little babes bundle up for playing in the snow.
Please list your phone number so our staff can respond to your request quickly. We do not use your number for any telemarketing purposes.
---
---
Department 56 · Disney · Enesco Precious Moments · Enesco Cherished Teddies · Fine Gifts
Gourmet Candy · Hallmark Gold Crown · Plush · Premium Cigars · Snowbabies
Homepage · Contact Us!
---
GLEN CENTER GIFTS
1969 Norristown Road · Maple Glen, PA 19002-2995
Toll Free 1-888-GIFT071
Phone: 215.643.2880 · Fax: 215.643.7544